SOUND ABSORPTION ON A DIFFERENT SPECTRUM
REAL WOOD - ANY SPECIES - ALL-IN-ONE ACOUSTIC PANEL SOLUTION
BETTER ABSORPTION ACROSS THE SPECTRUM
SONIC/CORE® is created with unique patent-pending multi-ply core that provides a 100% sound absorptive panel interior.
Different sound frequencies are absorbed by materials of different densities and thicknesses. SONIC/CORE's mutli-ply core is engineered to take advantage of this property of sound waves. That is why our absorption curve starts out higher and has minimal drop off after reaching its maximum absorption.
This creates a panel that is well-suited to a wide variety of acoustic solutions. Also, many competitor solutions require 2″ of acoustic insulation behind their panel, adding significant material and labor costs.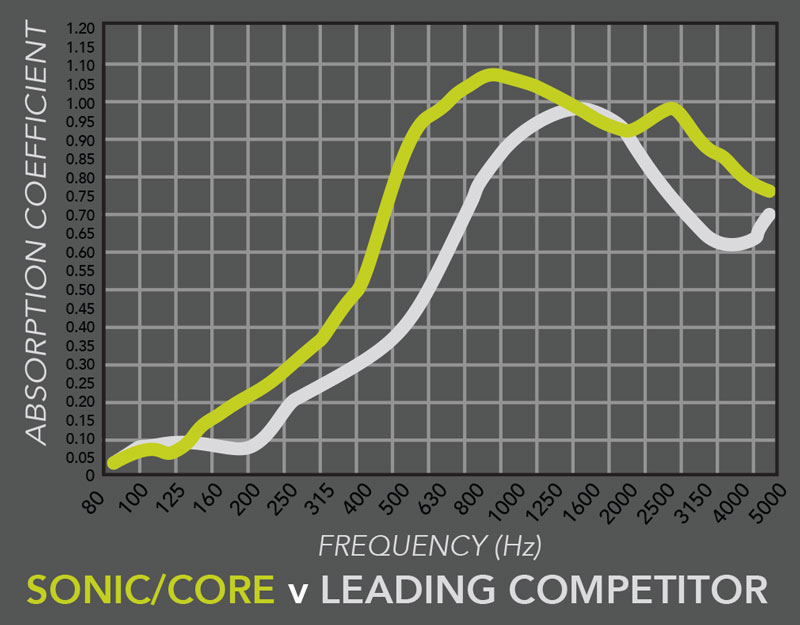 THAT ACTUALLY MAKES A DIFFERENCE
Nearly a million micro-perforations through the wood veneer face create portals for sound penetration into the adsorbent core layers below. These perforations become invisible from only a few feet away, allowing the beauty of the wood to shine.
Thousands of larger perforations in the first core layer create chambers below the perforated face. This greatly increases the surface area of the material allowing greater sound absorption in the first layer and providing direct access for sound waves into the less dense inner core.
Once sound energy passes through the face it is de-energized through SONIC/CORE's unique multi layer, multi density plies absorbing sound across the frequency spectrum better than its competitor's. Sound waves have to pass through three different core materials that each dissipate different parts of the frequency spectrum.

ALL-IN-ONE SOLUTION SAVES
TIME

AND

MONEY
SONIC/CORE is ready to hang. Just z-clip to the wall just like a traditional veneer panel. There is no need to put acoustic blanketing behind the panel or to use complicated specialized mounting systems. This saves on materials such as extra furring, additional acoustic batting, expensive mounting hardware. As a result, it saves a significant amount of installation labor. We've engineered SONIC/CORE to be competitively priced and void of all the hassles and hidden costs that other acoustic panels present.
TOTAL MICRO-PERF PERFORMANCE
Unlike the industry standard drilled-core micro-perf panels that have only 30% of their micro-perforations functional, SONIC/CORE is a fully porous core allowing all of the micro-perforations to function at their full capacity. Sound waves pass through the micro-perforations and enter SONIC/CORE's multi-density acoustic plies absorbing sound across a wide spectrum of frequencies.
As illustrated on the left, you can see the dramatic difference in available functional micro-perforations in SONIC/CORE compared to a traditional drilled core acoustic panel.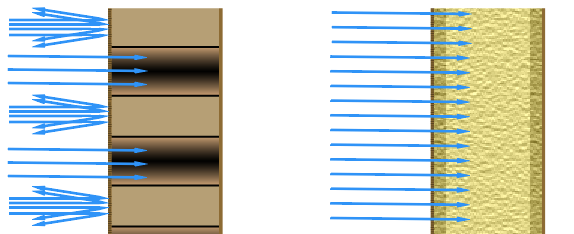 SONIC/CORE's Micro-Perforations disappear at a distance of only a few feet, so all you see is the natural beauty of the real wood panel face: silence and the beauty of natural wood together in one ground breaking acoustic solution.
Due to SONIC/CORE's industry changing absorptive core, it achieves a high NRC rating, allowing the panels to be installed just as traditional veneer panels would be. No additional insulation is required. This saves time and money on your project and results in exceptional performance with no hassle.
QUESTIONS AND MORE INFORMATION

Stuart Eiland Vice President
Face: Wood Veneer
Perforations: 0.5mm
Thickness: 1″ (25.4mm)
Core: polypropylene/fiberglass composite (Class A fire-rated)
Weight: 1.2 lbs/ft
Mounting: Standard Z-clip with 3/4″ screws